Working with Phase One Cameras
With Cascable and Phase One, you can enjoy all of Cascable's Pro features with your Phase One IQ4 digital back at no additional cost.
Connecting Your Camera
You can connect to your Phase One camera via WiFi or Ethernet. For details, follow the in-app instructions or consult our Phase One Connection Guide.
---
Unlocking Cascable Pro Features
The first time you connect your Phase One camera to Cascable, you'll have the opportunity to register your camera's connection to Cascable with Phase One. Once registered, and on subsequent connections to your Phase One camera, Cascable will enter "Phase One mode". While in Phase One mode, all Cascable Pro features will be unlocked at no charge.
Cascable Pro includes many powerful features, including (but not limited to):
Powerful automation tools with Shutter Robot, including advanced visual scripting with Recipes.
Work with RAW images on your iOS device.
Automatic import of images from your camera as they're shot.
Dedicated external display support for displaying your shoot on a monitor or TV connected via HDMI or AirPlay.
For a full overview of the features you'll get with Cascable Pro, see our features page, and our dedicated Recipes page.
Phase One mode will stay active after disconnecting, so you can still work with your images without having your camera connected. However, it'll deactivate if you connect a camera from another manufacturer until you connect your Phase One camera again. To use Cascable Pro features with other cameras, you'll need to purchase Cascable Pro as usual.
---
Working with IIQ RAW Images
Whenever you display an IIQ RAW image in Cascable, you're seeing a JPEG preview at a lower resolution than the full 150MP that the IQ4 can provide. When viewing directly from a connected camera, this preview is around 8MP in size.
When viewing from elsewhere (for example, from Cascable's built-in photo storage or a connected USB storage drive), the preview's size depends on which iOS device you have. The more RAM your iOS device has, the higher resolution this preview will be. For the very best results, a 2021 iPad Pro with the Apple M1 chip is recommended.
If your iOS device doesn't have enough available RAM to render IIQ previews at all, you may see a "no entry" symbol instead. Don't worry! While you won't be able to preview these images, you'll still be able to manage them as described below. For reliable IIQ preview rendering on iPhone, an iPhone XS or newer is recommended. On iPad, a 4th Generation iPad Air (introduced in late 2020) or 2nd Generation iPad Pro (introduced in mid 2017) is recommended.
When managing your IIQ RAW images (i.e., copying them to external storage, copying them to other locations on your iOS device, accessing them via the Files app, sharing them to other devices via AirDrop, and so on), Cascable always works with the original image file without modification or quality loss.
Support for IIQ RAW images by iOS itself and other apps may be limited, and your experience with IIQ RAW images in other iOS apps will vary.
---
Optimising Performance
Live View
Cascable 6.3 improves performance of live view from IQ4 cameras running Feature Update 8 SR2 (released in July 2022) or later.
You can additionally improve performance of live view by enabling the Prefer High Framerate option in Cascable's Remote Control settings, which can be found in the ••• Quick Menu in the Remote Control section of the Cascable app. This setting will reduce the resolution of the live view image in exchange for a higher framerate.
Image Transfer & Previewing
When the camera has Host Storage enabled, Cascable must transfer the entire IIQ image from the camera each time a shot is taken. This has the advantage of automatically transferring your IIQ images to your iPhone or iPad, but these files are very large and transfers can take a significant amount of time depending on network conditions.
If you don't need to immediately transfer your IIQ images and your IQ4 has Feature Update 8 SR2 (released in July 2022) or later, disabling Host Storage on your camera will allow Cascable to instead transfer a lower-resolution (around 8MP) JPEG preview. This is enough detail to check your image's focus and sharpness, and the previews transfer significantly faster than the IIQ image.
You can also browse your camera's storage to preview and transfer IIQ images at your leisure in the Photos section of Cascable, so if you don't need previews as you shoot you can go further and disable the Photo Review feature in Cascable's settings to skip these transfers entirely.
You can find the Host Storage setting in the camera's menu → Storage Setup → Advanced Setup.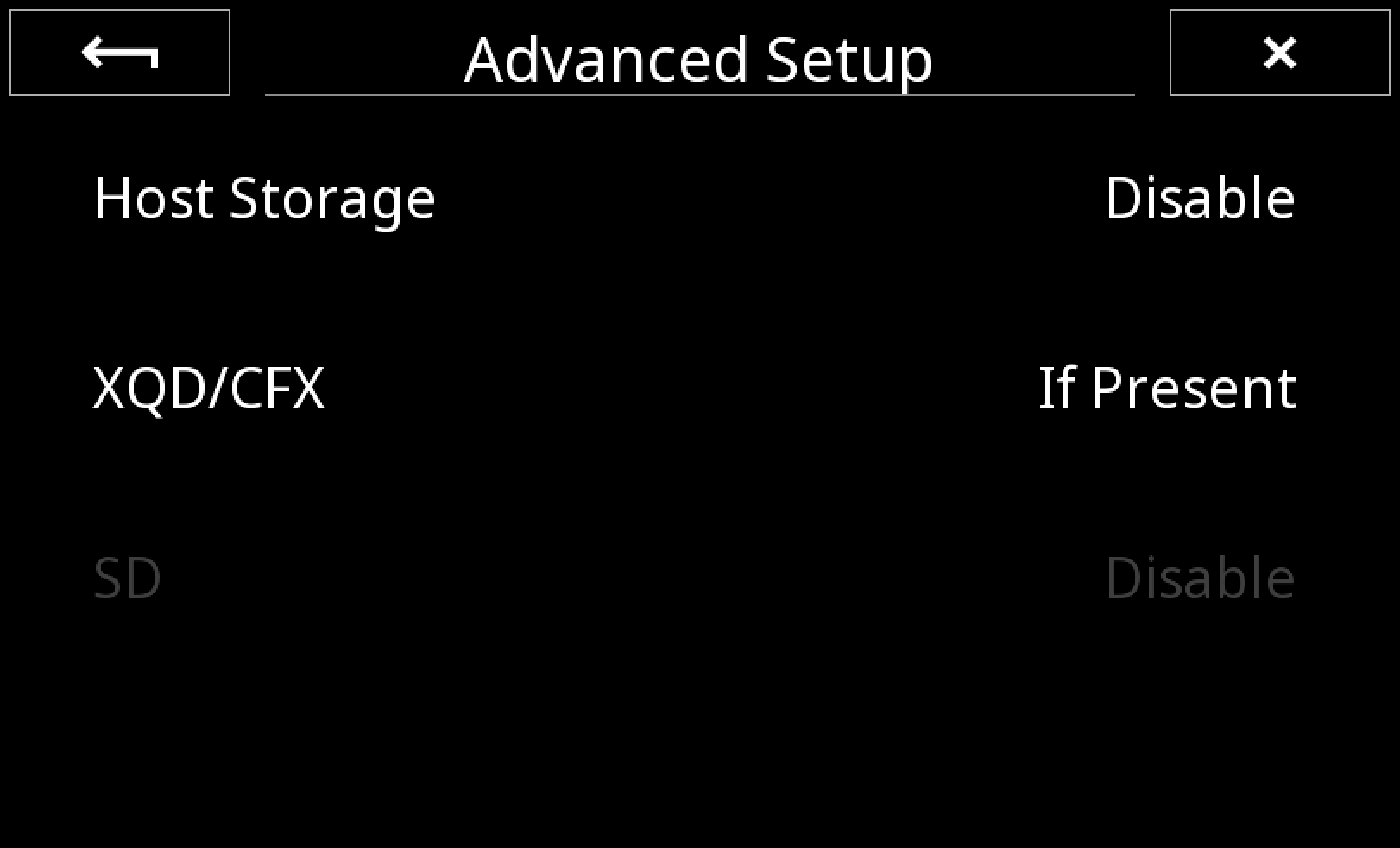 ---
Getting Help
For help with using the Cascable app itself, you can consult our various guides both here on our website and within the Cascable app. For additional help, contact us using the "Support" button at the bottom right of this page.
For help with using your Phase One camera or Capture One on your Mac or Windows computer, you can contact Phase One via their website.