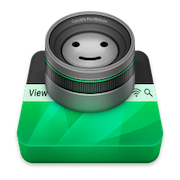 Cascable Pro Webcam
Turn your camera into a supercharged, high quality webcam with no extra hardware required!
Requires macOS 10.14.4 or higher, USB works best on 10.15 or higher.
Purchases come with a 30 day money-back guarantee! More info in our terms.
Cascable Pro Webcam can turn your supported camera into a webcam using just USB or WiFi. You'll be the best-looking person in your video conference by far!
Cascable Pro Webcam is currently in beta, which means it may have bugs or minor compatibility problems.
During the beta process, you can get Cascable Pro Webcam at a 25% discount!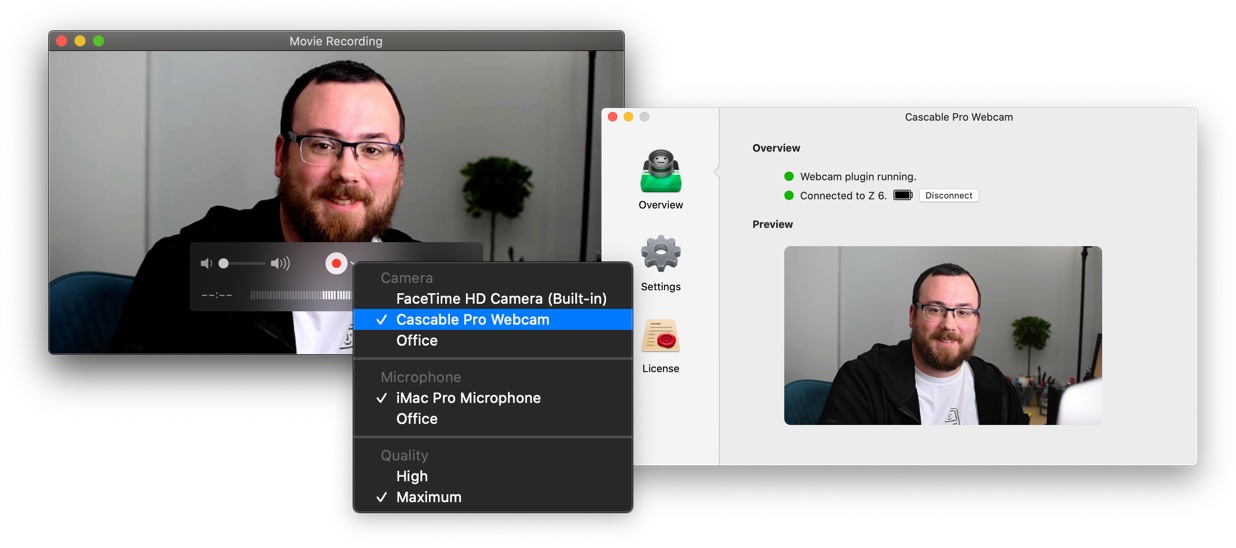 Elevate Your Stream
Cascable Pro Webcam is designed to help you create a professional and great-looking stream, whether you're taking part in video calls or streaming to thousands of fans. On top of the superior image quality you get by using a camera much better than your computer's built-in webcam, Cascable Pro Webcam can configure your camera for the best focus settings for webcam use, and provides options for optimising performance.
See our How To Look Awesome tutorial for tips and tricks on how to look your best on camera!
| | |
| --- | --- |
| Before: MacBook Pro's built-in webcam. | After: Cascable Pro Webcam with an EOS M50. |
Should the worst happen and your camera runs out of battery or otherwise becomes disconnected, Cascable Pro Webcam lets you customise the "test card" that's shown when no camera is available.
Want an on-brand image or a bit of fun to make your colleagues laugh? It's up to you!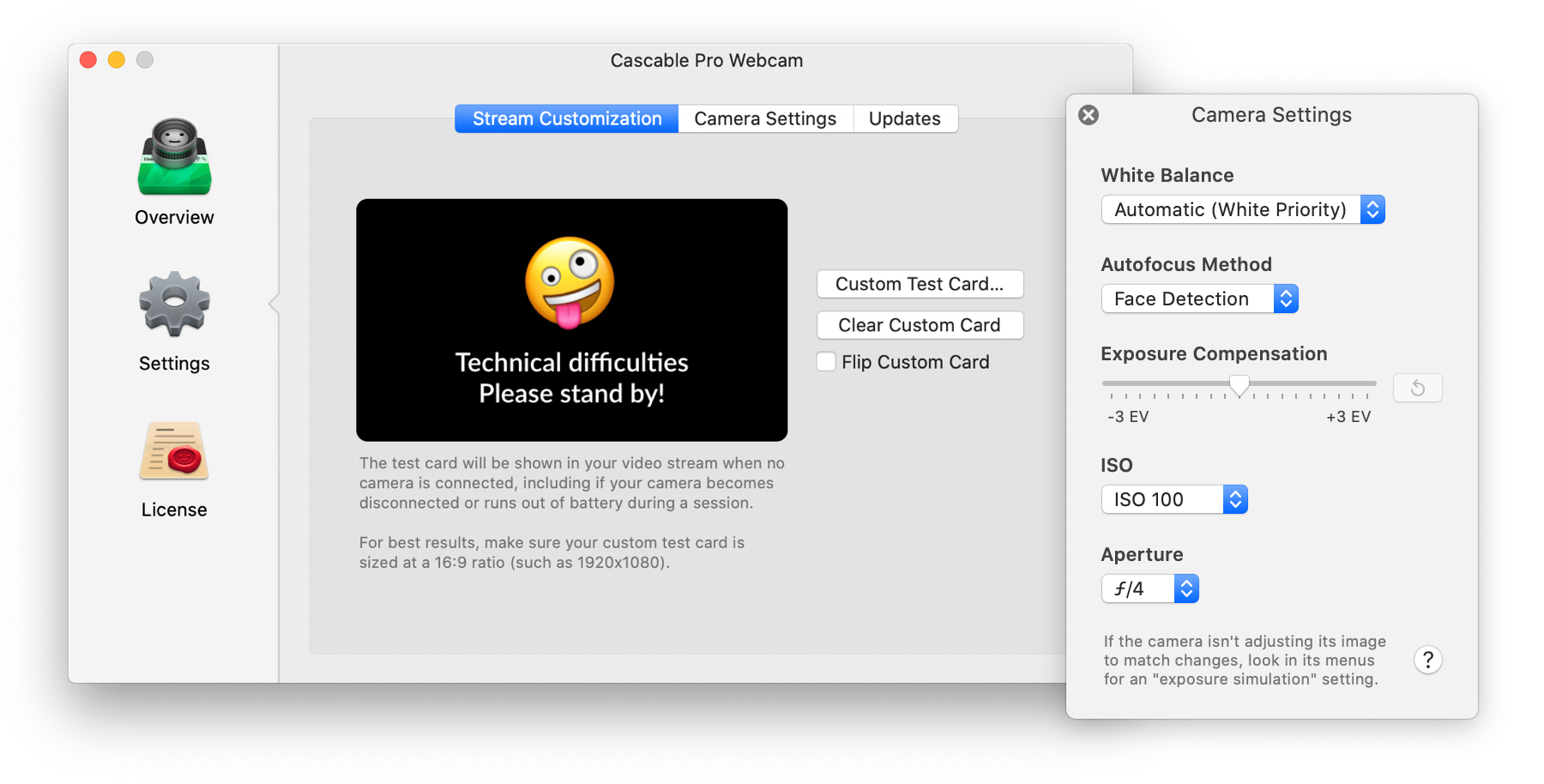 Compatibility
Cameras
Cascable Pro Webcam is compatible with hundreds of cameras:
Via WiFi: Most Canon, Fujifilm, Nikon, Olympus, Panasonic and Sony cameras with WiFi. See our WiFi compatibility table for more information.
Via USB: Most Canon EOS and Nikon cameras, although cameras not in our WiFi compatibility table may not have been tested. USB connections require macOS 10.15 Catalina for the best results. See our Working with Wired Cameras guide for more information.
Apps
Cascable Pro Webcam should work with apps that support system-level camera plugins. However, if the app has strong security measures protecting it, the app may not load the plugin. Until we have an extensive list of supported apps, the best thing to do is to install the app and try it out! The following apps have been tested to work:


Google Chrome


Microsoft Edge


Microsoft Teams


OBS Studio


QuickTime Player


Skype*


Zoom*
Note: Using Zoom requires Zoom 5.0.5 or later. Using Skype requires Skype 8.59 or earlier.
Installing the Beta
Cascable Pro Webcam is currently in beta (real beta — expect bugs!), and has a few known issues, which can be found below. If you have any questions or problems, please see our Help Center for help.
The trial of Cascable Pro Webcam never expires, but limits each video stream to two minutes — after which an overlay will be applied to your stream. Some features are also not available in the trial. Purchasing Cascable Pro Webcam will remove the overlay, unlock all features, and support an independent developer!
Download Cascable Pro Webcam Beta
Requires macOS 10.14.4 or higher, USB works best on 10.15 or higher.
Known Issues
The following known issues exist in the beta. We aim to fix these by the time the final version of Cascable Pro Webcam 1.0 is released:
Some models of Canon camera won't connect via WiFi, causing a "This camera does not appear to be compatible with Cascable Pro Webcam" error. To use these cameras, instead connect them using the 'EOS Utility' WiFi mode (if available), or USB. Fixed in 1.0b8.
Some models of Canon camera won't connect on the first attempt via USB (specifically the EOS 5D Mark II). Trying to connect again usually resolves this. Fixed in 1.0b8.
The image resolution from some models of Canon camera is lower than it can be when connected via USB. Fixed in 1.0b7.
On macOS 10.14 Mojave, USB camera detection can be unreliable. Upgrade to macOS 10.15 Catalina for a more reliable USB connection. Fixed in 1.0b8.
When disconnecting from a camera while the app is still being used in an active call/stream, the test card won't be displayed correctly in some instances. Quitting the Cascable Pro Webcam app will force the test card to appear.
On older computers, the framerate can drop due to CPU usage limitations. Future versions of Cascable Pro Webcam should improve performance and allow for a higher framerate. Improved in 1.0b7.