Working with Stage Manager on iPad
The latest versions of Cascable running on iPadOS 16 or higher fully support Stage Manager and multiple windows. This article runs though the basics of working with multiple windows in Cascable on iPad devices with Stage Manager enabled.
Creating Windows
Cascable has two kinds of windows: main windows and preview windows.
A main window contains the regular Cascable user interface — you can choose to show any of Cascable's modes (remote control, photos, Recipe editor, etc) in any main window. You can, if you choose, show the same mode in more than one window if you want to, for example, edit more than one Recipe at once, or view multiple photo storage locations at once.

A preview window (requires Cascable Pro) shows the most recent image viewed in a main window, either automatically via Photo Review or manually via tapping on an image in the Photos mode of the app. The preview image will stay put until either a new image is viewed in a main window, or the preview window is closed. As with main windows, you can choose to have multiple preview windows open at once if it's useful to your workflow.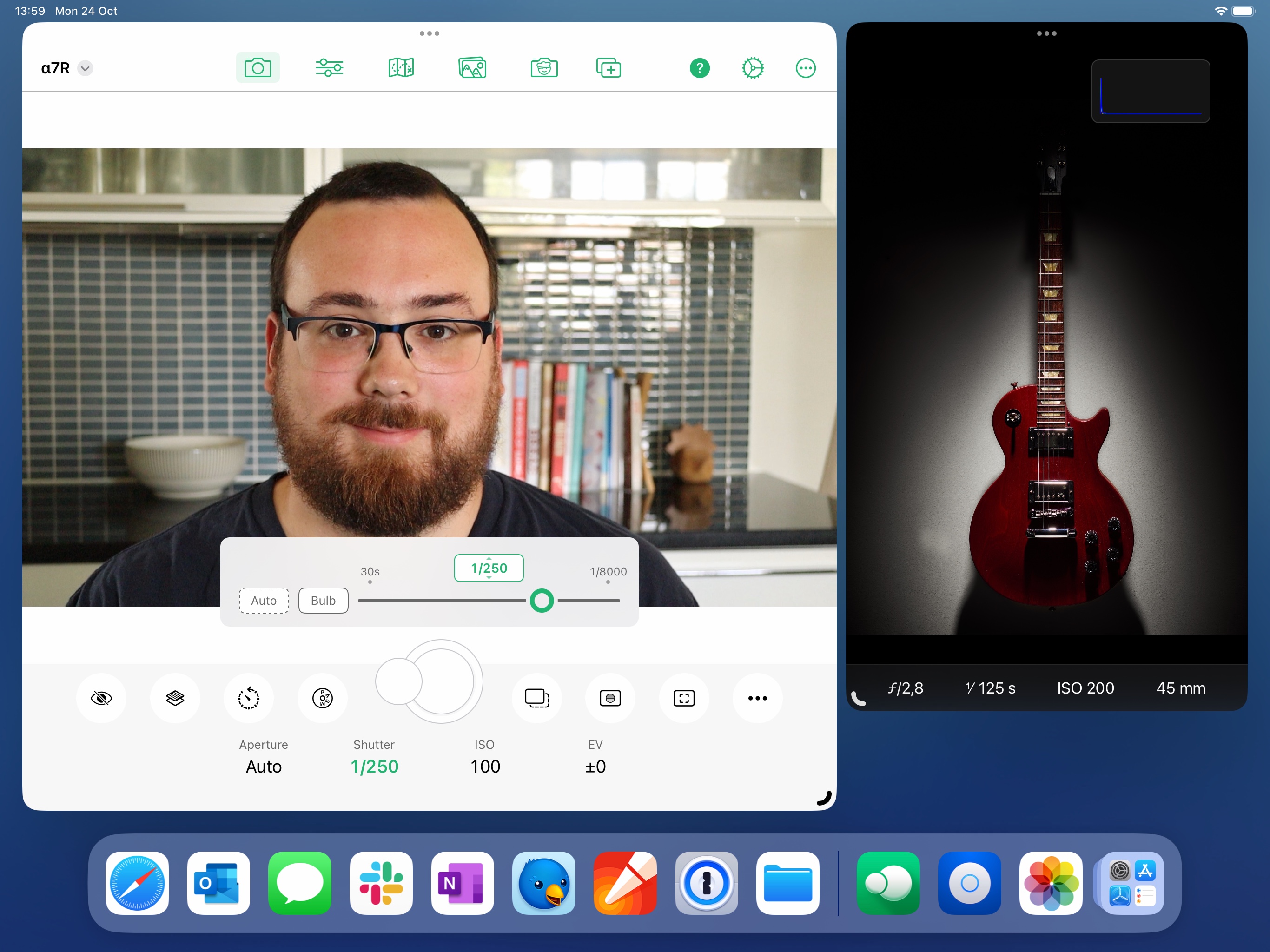 Two Cascable windows side-by-side. On the left, a main window. On the right, a preview window.
To create a new window, tap the '+' button in the toolbar and choose "New Main Window" or "New Preview Window" from the menu that appears. If you don't see the '+' button, tap the '…' button at the far right of the toolbar, choose "Customize Toolbar", and add the '+' button to the toolbar. Note that you'll only be able to create multiple windows on an iPad running iPadOS 16 or higher.
Managing Windows
Cascable windows can be resized and arranged as you prefer, with the caveat that main windows resized to smaller sizes won't show the '+' button to create new windows. You can place windows side-by-side, have them overlap, or have them in different spaces altogether.
Cascable windows will appear in the task switcher by swiping up on the iPad's home bar and holding your finger on the screen for a moment before letting go. You can also tap and hold on Cascable's icon on your home screen or in the dock then choose "Show All Windows" from the menu that appears to gather them all together.
Closing Windows
To close a window, tap the '…' at the top of a Cascable window and choose "Close".