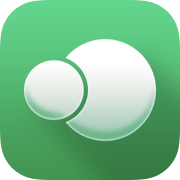 Cascable
The Professional Photography Toolkit
Shutter Robot Recipes
Recipes are an extension to our Shutter Robot feature that allow you to automate your photography in exactly the way you want!
Use the library of available "blocks" to assemble a sequence of steps for your camera to follow. Advanced features such as loops and variables allow you to build incredibly powerful sequences.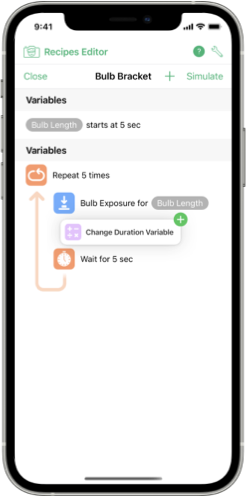 Intuitive Recipe Building
Whether you're using an iPhone SE or a 12.9" iPad Pro (or anything in between), Cascable gives you an easy-to-use yet powerful editor for building your recipes. Simply drag and drop blocks from the picker into the editor to build your recipe.
Put a block in the wrong place? No problem — simply drag and drop it to the correct location.
Exposure Settings
Shutter Robot Recipes allows you to change any exposure setting your camera allows: Shutter Speed, Aperture, ISO, and Exposure Compensation.
Not sure how your camera will be set up on the day? No problem — Smart Exposure will decide which one to change based on how your camera is set up when your recipe is run.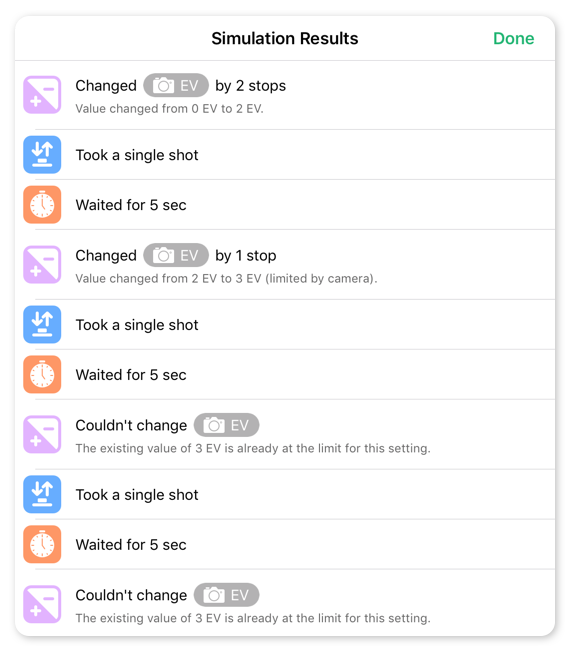 Powerful Testing Tools
When building Recipes, we quickly found that building and running recipes isn't enough — it's also important to be able to test your creations before using them in a real photoshoot. Nothing would be worse than running a multiple hour timelapse only to find afterwards that you made a mistake!
To help with this sort of problem, we've built a camera simulator right into the Recipes editor. The simulator will run your recipe against a virtual camera and present a detailed log of what happened. Using this, you can see exactly what your recipe is doing and perform any tweaks needed.
What's more, the simulator shortcuts your wait blocks, meaning you can spot a problem with a multi-hour run in seconds!
Advanced Feature: Variables
Sometimes, you need flexibility during a shoot. Perhaps you're creating a timelapse and want to vary the time between shots, or you're taking multiple long exposures and want to change the duration of each shot.
To achieve this, Recipes has variables — values that can be changed while the recipe is run. You can then link your variables to wait periods or bulb exposures. This allows for some incredibly powerful recipes!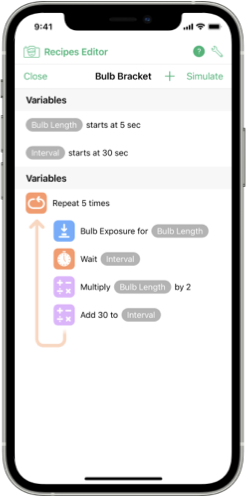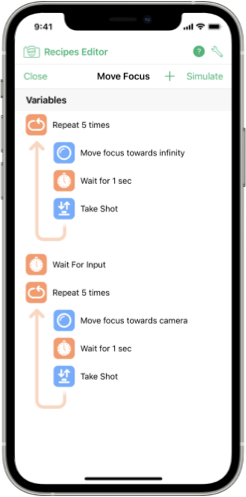 Advanced Features: Wait For Input and Move Focus
New in Cascable 3.6 is the Move Focus block, allowing you to directly manipulate the focus position of your Canon or Nikon camera. Now with Recipes, you can perform powerful focus stacking operations in a breeze!
Ever had something crop in the middle of a shoot that you need to stop and handle? Us too! That's why in Cascable 3.6 we introduced the new Wait For Input block, which will pause your recipe and wait until you're ready to continue. You can continue your recipe by tapping buttons on the screen, via a connected keyboard, and via our Recipe Input iOS app.
What's more, we've even open-sourced the Bluetooth protocol used for controlling Recipes, so if you're building custom hardware you can integrate it right into Cascable to provide an incredible level of power!
---
More Information
You can find some detailed documentation in our Recipes Quick Start and Advanced Features guides, by watching our Getting Started with Recipes video tutorial.
These resources are also available within the Cascable app itself.
You can create your own recipes and run them in the camera simulator using the free version of Cascable, so we encourage you to dive in and give it a go!
---
Shutter Robot Recipes supports all of the cameras that Cascable can remote control — with the caveat that the camera must support the features a particular recipe uses. For example, only Canon, Nikon, and Phase One cameras support direct focus manipulation, and Fujifilm cameras don't allow bulb exposures while being controlled over WiFi.
For more information on camera capabilities, see our camera compatibility guide.