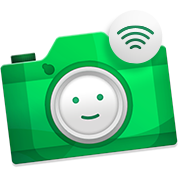 Cascable Transfer
for macOS 10.11+
---
No cables? No memory card slot? No problem!
With Cascable Transfer, you can wirelessly copy photos to your Photos library, Lightroom catalog, or anywhere else on your Mac.
Cascable Transfer supports over 100 WiFi-enabled cameras from Canon, Fujifilm, Nikon, Olympus, Panasonic, and Sony.
Connect
Connect your Mac to your supported camera's
WiFi network.
Review
Review your photos with high-quality previews
and metadata.
Select
Choose the photos you want to transfer
manually or with Quick Select.
Copy
Copy them directly into your Photos library,
Lightroom Catalog, or anywhere else on your Mac.
---
The procedure is simple
Turn on WiFi with your camera, connect to it with your computer, then launch Cascable. If your camera is one that is supported, then the screen soon fills with thumbnails from the memory card.
Wirelessly transfer your shots from your camera straight to your Mac
Cascable's new app could certainly be handy for those who prefer to edit on their desktop first.
---
Stay Up To Date
To be notified when we add new features or support for more cameras, sign up for our newsletter:
We will only use your email address to send you our newsletter and nothing more. See our Privacy Policy for details.