We're proud to announce the release of Cascable 2.0! Version 2.0 has been a long time coming - we started the long road back in October 2015 with this tweet:
Autumn is in full swing and it's exciting times here at Cascable as the road to multi-manufacturer support begins! pic.twitter.com/NFFAmyyghs

— Cascable (@CascableApp) October 23, 2015
Some of the more exciting things in this release:
Increased Camera Support
By far the biggest time sink in this update was support for cameras from multiple manufacturers (Cascable 2.0 supports 50 camera models from Canon, Nikon, Olympus, and Sony). We ended up rebuilding a large portion of Cascable's internals to allow it to gracefully deal with the fact that each manufacturer builds their network stack differently. Happily, we've ended up with a solution that should make it a lot easier to add further manufacturers in the future.
Night Mode
This nearly shipped with Cascable 1.0, but got cut due to time constraints in the months leading up to launch. We're really happy with how it turned out, and several of our testers told us they now use Cascable with Night Mode enabled 100% of the time!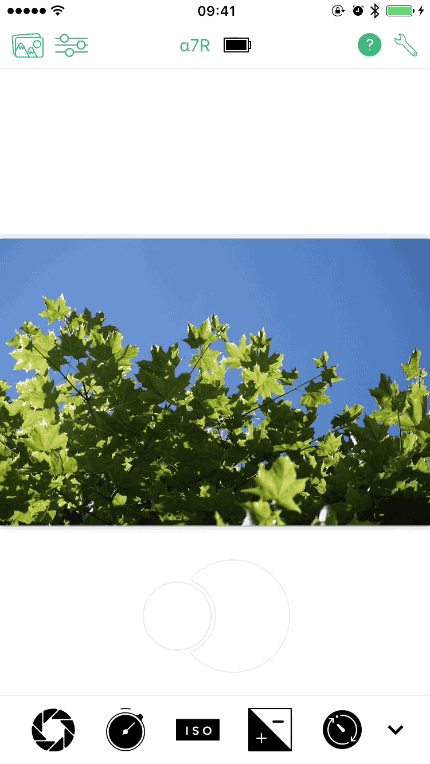 Better RAW Support and Improved Photo Management
Cascable 2.0 supports the RAW+JPEG workflow much better now (no more duplicates!), and the photo management workflow is also much better. Photos are arranged in groups by day, and you can filter and search through the photos you've copied into Cascable.
The fullscreen photo viewer has seen some love, now showing photo metdata along with a histogram, and it now allows you to zoom in to your photos at 1:1 resolution.
High-Resolution Previews
One of the more popular pieces of feedback we got from our Cascable 1.x users was that the workflow for verifying you'd successfully nailed the shot was too clumbersome - you'd need to take the photo, switch to photo management, scroll to the bottom of the list of photos, download the photo you'd just taken, then (finally) view it. We've made three changes in Cascable 2.0 to make this much better:
Shot Preview automatically shows a preview of the shot you've just taken right in Cascable's remote control. Depending on your camera, these previews aren't quite the same resolution or quality as the full photo, but they're lovely and fast to load and contain more than enough detail to verify focus and exposure.

Photo Management shows the photos on your camera with the newest at the top. It's a small change, but no more scrolling to the photos you're most likely to be interested in!

Photo Management also allows you to preview any photo on your camera by tapping the thumbnail or with Force Touch on compatible iPhones. The preview here is very similar to the one given in Cascable's remote control - not quite the size or quality as the original image, but fast to load and with plenty of detail.
Free To Get Started
One of the largest barriers to entry for Cascable 1.x was the up-front cost. We understand that it's difficult to dive in on a $25 app without being able to try it first, so with Cascable 2.0 we've made the base app completely free with the various "Pro" features available as an In-App Purchase. Each feature pack is $9.99, or you can buy all three in a bundle for $24.99.
All of our existing customers will receive Cascable 2.0's Pro features free of charge. Thank you for supporting us early on!
…And Much More!
We've made improvements throughout the whole app - far too numerous to list here.
Keep In Touch!
If you'd like to keep in touch with us, you can do so in a number of ways:
We'll be posting handy tips and tricks on this blog, and you can subscribe to our RSS feed here.
You can follow us on Twitter, Instagram and Facebook for byte-sized looks into life at Cascable.
You can subscribe to our email newsletter. It's very low-volume, and we'll use it to send you the occasional email about Cascable updates and new features.
More Information
We're really proud of Cascable 2.0 and hope you'll love it! Ready to dive in? Here's some handy links: