Cascable 2.0 was released a little over a month ago and we've been overwhelmed by the positive response it's received from our users and the press alike, and were over the moon to receive a 4.5 star rating from PhotographyBLOG!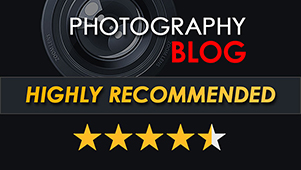 However, we haven't been resting on our laurels! We've been listening to your feedback and are pleased to announce the release of Cascable 2.1, which adds a number of improvements to Cascable's existing tools and a couple of new features we think you'll love.
Greatly Improved RAW Fidelity
If you're running iOS 10 or higher and have a modern iOS device, Cascable will render your RAW files with significantly increased quality and color depth. This looks particularly great on devices with displays that support the P3 deep color gamut — currently, the 9.7" iPad Pro and the newly-released iPhone 7 models.
This feature requires fairly modern devices — iPhone 6 or higher, iPad Air 2 or higher, or the latest 6th generation iPod touch. The reason for this limitation is that processing RAW files takes a significant amount of resources and requires a certain level of memory, CPU, and graphics power to be able to do successfully. In fact, the iPhone 6 only just made it in as we're pushing the memory ceiling on iOS devices with 1GB of RAM!
If you have an older iOS device or are running on iOS 9, Cascable will continue to render RAW files as it did before this update.
Quick Proof
We're really excited about this one!
The idea for Quick Proof came about when we were out and about taking photos with Cascable, and wanted to make sure that bright sky would recover nicely or there was enough detail in the shadows. We also wanted to share these photos to social media, but we typically wanted to apply a couple of adjustments to the images first, particularly with RAW files.
However, the number of apps that support RAW files properly on iOS is limited — most of them use the built-in JPEG preview when editing, so our highlights and shadows are lost before we even start. Additionally, when you share a photo to another app, you duplicate that photo when doing so — those big RAW files add up fast!
Cascable's new Quick Proof feature solves all of these problems. Using Quick Proof, you can apply adjustments to your photos right within Cascable. Quick Proof is built on top of our new high-fidelity photo renderer, meaning you get high-quality editing of your RAW files with full deep-color support!
Since it's built on our new high-fidelity renderer, Quick Proof (even for JPEG photos) has the same requirements as above: iOS 10 and an iPhone 6 or higher, iPad Air 2 or higher, or the latest 6th generation iPod touch.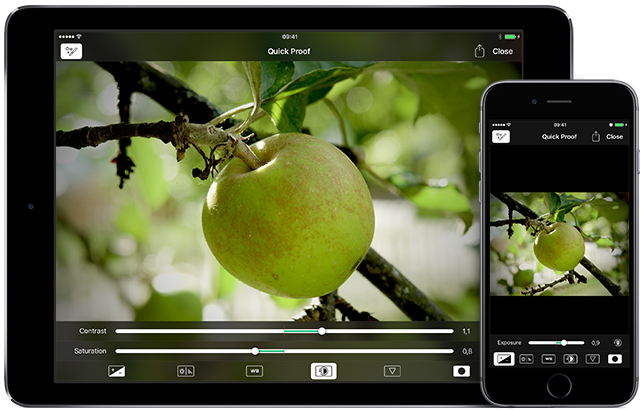 A few notes about Quick Proof:
• Quick Proof is available to all users that have purchased either Cascable Pro: Photo Management or Cascable Pro: Full Bundle.
• Quick Proof currently supports the following adjustments: Exposure, Highlight & Shadow recovery, White Balance, Contrast, Saturation, Sharpening and Vignette.
• We don't consider Cascable a fully-fledged image editor, so we never ever modify your photos. Quick Proof works by saving the settings you apply alongside your photos and applying them live. When you exit Quick Proof, your photo will revert back to its unedited appearance.
• When you share from within the Quick Proof editor, Cascable will generate a JPEG image with your edits 'baked in' for sharing to social media, exporting to another app or your computer, etc. To make your JPEGs look as great as they can, they're saved with the Display P3 extended gamut color profile. The JPEGs should look fine even in software that doesn't support color management, but do get in touch if you have problems.
To compare, you can check the following JPEGs. The first is a JPEG from a RAW+JPEG photo taken with one of our test cameras with absolutely no processing done to it whatsoever, and contains the standard sRGB color profile.
The second JPEG shared from Quick Proof on the RAW of that same photo, with slight bumps to exposure, contrast, saturation and a vignette. It contains the Display P3 color profile, and should look a bit warmer and brighter than the straight-from-camera JPEG.
Other New Features
We haven't stopped there! We've been listening to your feedback, and have improved a few of Cascable's existing tools:
Repeating Bulb Timer
Shutter Robot's Bulb Timer can now be configured to repeat either a set number of times or for a set duration. This feature is great for taking a series of shots you might want to stack later. If you manage to produce some great shots with this, let us know — we're dying to see some amazing night shots!
When working with long exposures, cameras tend to need a sort of 'cooldown' time between shots, particularly if they have long exposure noise reduction features enabled. With this in mind, the Bulb Timer also has a "Time Between Shots" setting, which lets you account for this.
We'll be publishing a blog post soon packed full of tips and tricks for success with Shutter Robot!
Light Meter
With supported cameras, Cascable will switch its Exposure Compensation display to show the readout from the camera's light meter in stops when you're shooting in a Manual exposure mode. If the display starts flashing, your exposure settings will result in an exposure further from 'correct' than the display indicates.
Unfortunately, this feature isn't supported on Sony cameras as they don't convey their light meter readings to apps like Cascable. Sorry!
Improved Exposure Readings
If you're shooting with iPhone in exposure modes other than Manual, you'll now see the result of the camera's autoexposure system in their respective displays. On both iPhone and iPad, those readouts will start flashing if your camera can't achieve the desired exposure with the current settings.

If you see this, you've probably left your lens cap on!
Improved Photo Previewing
If you're using a camera that supports on-body shooting while Cascable is connected (some Canon models and most Nikon models with Live View disabled, as well as some Sony models), Cascable will now recycle the Photo Review screen if it's still visible from a previous shot. If you set Photo Review to dismiss manually, you can use Cascable as a continuously auto-updating high-res preview of your shots.
In addition, when you're previewing photos in the Photo Management section of Cascable previews are cached for super-fast repeat previews, and you can delete photos from your camera or iOS device right from the high-res preview screen.
Bug Fixes
An update wouldn't be complete without a pile of bug fixes. In particular:
• Cascable is now fully iOS 10 compatible.
• We fixed a problem that would cause Shutter Robot's bracketing to not work correctly on some cameras set to the Manual auto exposure mode. This affected the EOS M3 in particular.
• We've greatly improved the reliability of Cascable's camera detection. If you ever have to force close Cascable and relaunch it in order to connect to your camera, please get in touch — that should never happen again!
• And much more!
---
Phew, what an update — and that's not even the whole list! You can find the full release notes for Cascable 2.1 over on our Version History page.
Right, Photokina is coming soon and we've heard there'll be lots of new cameras to support — I'd better go prepare. Enjoy the freshly improved Cascable, and do get in touch with any questions, comments, or awesome photos you take!
Keep In Touch!
If you'd like to keep in touch with us, you can do so in a number of ways:
We'll be posting handy tips and tricks on this blog, and you can subscribe to our RSS feed here.
You can follow us on Twitter, Instagram and Facebook for byte-sized looks into life at Cascable.
You can subscribe to our email newsletter. It's very low-volume, and we'll use it to send you the occasional email about Cascable updates and new features.