We're proud to announce the largest single update in Cascable's history — Cascable 4.0!
Cascable 4.0 focuses on your workflow. Managing your photos with Cascable has been significantly improved, with a host of new features and a complete revamp of the photo management UI. Let's dive in!
Greatly Improved Wireless Tethering Experience
Cascable has always allowed wireless tethering for some cameras, but it wasn't an officially supported workflow — we didn't specifically test cameras for wireless tethering, and some aspects of it were very slow — especially if your camera had a lot of images on its memory card(s).
With Cascable 4.0, wireless tethering is now a fully supported workflow for cameras that support it, and it is fast. You can see if your camera supports wireless tethering in Cascable in our revamped compatibility guide, which is now also available directly in the app.
Support for external displays has also been improved with wireless tethering in mind. Images shown in Photo Review are now mirrored to a connected external display, with a new section in settings to configure its appearance. Your iPhone or iPad can now turn any display into a wireless studio monitor!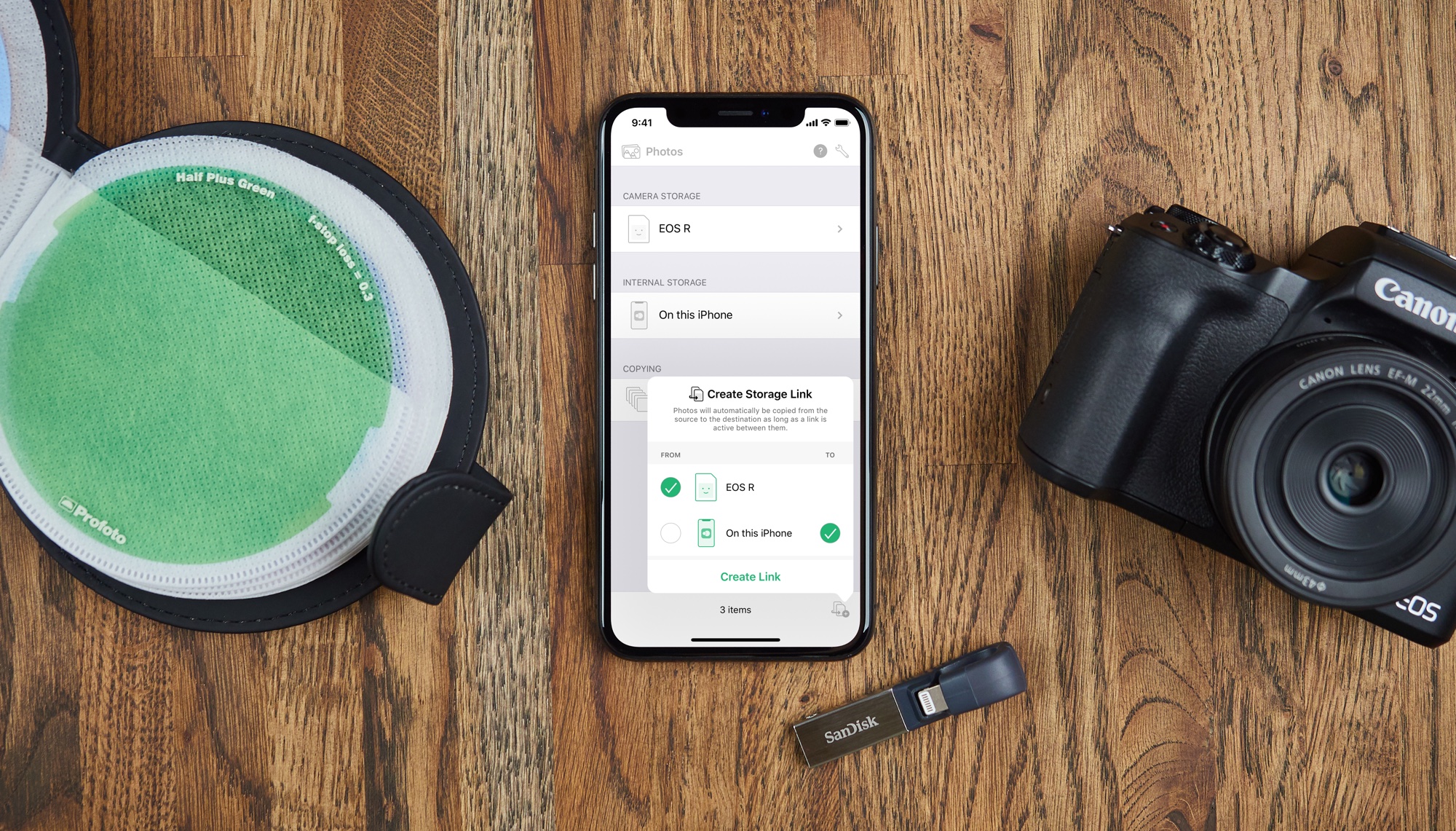 Automatic Image Importing with Storage Links
A very common feature request from our users is the ability to automatically import photos from their camera. Cascable 4.0 introduces Storage Links, which allow you to achieve just that!
Once you have linked two storage devices together, images appearing on the source side of the link will be automatically copied to the destination when Cascable is able to access them. For cameras that support simultaneous access to their storage while being remote controlled or tethered, that will be as soon as the shot is taken. For cameras that don't, this will be when switching to the Photos section of Cascable.
Important: Storage Links are always paused while Shutter Robot is running, in order to not interrupt the sequence of shots. Once Shutter Robot ends, the link will be re-activated and photos taken by Shutter Robot will be copied over.
Support for External Storage with SanDisk iXpand
Cascable now supports the SanDisk iXpand external USB storage device. Simply connect your iXpand to your device while Cascable is running, and it'll appear as an available storage destination! Cascable supports all photo management features except Quick Proof with the iXpand, so you can use it as the destination of a Storage Link — link it to Cascable's internal storage to automatically back up any images you copy from your camera, or link it directly to your camera to automatically copy images from your camera to the USB drive!
We're really excited about the integration with iXpand — it opens up a number of really slick workflows, particularly when combined with Storage Links. With a camera that supports wireless tethering, you can pick up your camera and concentrate on shooting while Cascable takes care of pulling the images from the camera and copying them straight to the USB drive — all without touching your iOS device!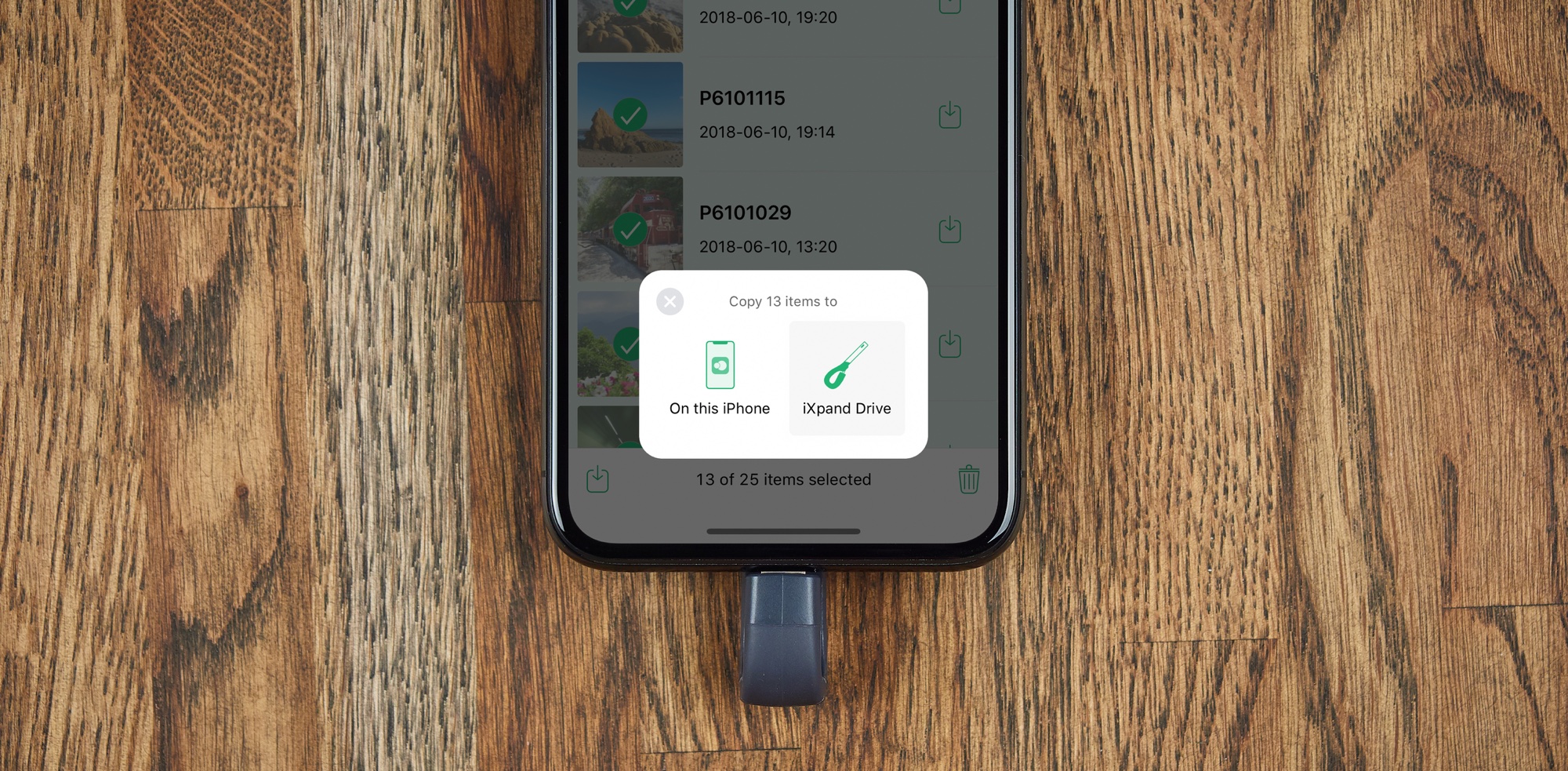 View and Apply Image Ratings
Another popular request — Cascable can now show IPTC star ratings of images on-camera (where supported by the camera), and apply them to images in Cascable's storage. The IPTC ratings will then be applied when exporting JPEG images through sharing, the Files app, or drag-and-drop. XMP sidecar files for RAW images will be implemented in a future update.

Massively Improved Flexibility
Up until 4.0, Cascable presented on-camera images as a list, and on-device images as a grid. On iPad, they were always displayed side-by-side.
We had so many requests for different variations on this fixed layout, we decided to allow you to choose anything for anything. Want a grid of tiny thumbnails filling your entire iPad's screen? A stack of full-width thumbnails on your iPhone? A list that includes image metadata? Sorted by date, name, size, kind, or rating? You got it! On iPad, you can also choose to have a single storage source fill up most of the screen for more images onscreen at once, or have two side-by-side for easier drag and drop between the two. It's up to you!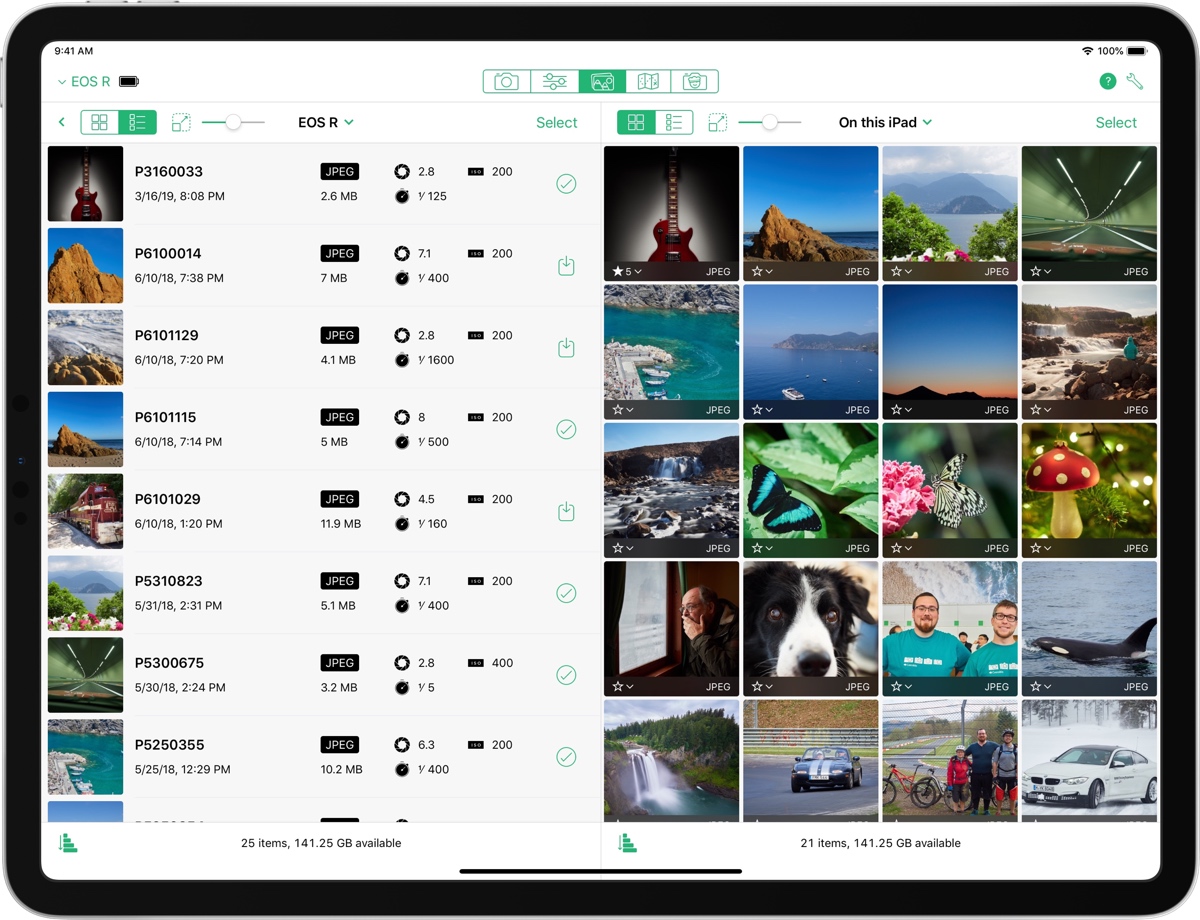 A medium-sized image list next to a medium-sized image grid on iPad.
Support for Nikon D500, D5600, D7500, and D850
Recently, Nikon released firmware updates for their WiFi-enabled SnapBridge cameras that adds a feature called "Wi-Fi Mode". This allows Wi-Fi to be turned on manually, and as such allows apps like Cascable to connect to them. As of version 4.0, Cascable is fully compatible with these cameras once they've installed the firmware update!
Other Changes
As well as these large new features, we've also improved various other parts of Cascable. A few notable ones:
The Files app integration has been reworked to be faster, better support RAW images, and for JPEG images now includes geotags and ratings that were applied in the app.

The in-app camera compatibility guide now provides detailed information about the features available for every supported camera, and any important usage notes.

The viewfinder image in remote control can now be flipped horizontally for a "selfie mode".
---
Phew! That's a lot of great new stuff!
What About Filtering?
A couple of features that were in Cascable's photo management tools in versions prior to 4.0 are currently missing — notably, filtering and Quick Select.
Since adding the option of a subscription to Cascable in version 3.0, we've moved to a release schedule that tries to avoid large amounts of time without any feature updates. We aim for a feature update roughly every two months, and we've been working hard on Cascable 4.0 since January. Rather than delaying the release of Cascable 4.0 even more, we decided to release without filtering and Quick Select. Don't worry, though! Much improved versions of these features will return to Cascable in the next feature update.
Do I Have To Pay For These New Features?
In short: If you're currently subscribed to Cascable Pro or purchased a full unlock to Cascable Pro in the past, everything in Cascable 4.0 is available to you.
Photo Review, Storage Links, external displays, image ratings, and working with RAW images are all Cascable Pro features, and require that you are an active Cascable Pro user.
You are an active Cascable Pro user if you currently subscribe to Cascable Pro, or have purchased a "Full Unlock" of Cascable at any point in the past. These specific features are also available if you purchased a "Pro Files Mode" feature pack in Cascable 2.x (which was discontinued in 2017).
Keep In Touch!
If you'd like to keep in touch with us, you can do so in a number of ways:
We'll be posting handy tips and tricks on this blog, and you can subscribe to our RSS feed here.
You can follow us on Twitter, Instagram and Facebook for byte-sized looks into life at Cascable.
You can subscribe to our email newsletter. It's very low-volume, and we'll use it to send you the occasional email about Cascable updates and new features.