It's been a long time since the last update to Cascable Transfer, but after a significant amount of work rebuilding the app to operate within the tighter security requirements of macOS 10.14 Mojave and beyond, we're happy to announce that Cascable Transfer has a very bright future ahead of it on the Mac App Store!
Cascable Transfer 3.0 will be available on the Mac App Store from today — August 29th, 2019.


A Brief Re-Introduction
Make your photography workflow wireless with Cascable Transfer! With direct and flexible integration into your existing workflow and apps from over 150 supported WiFi-enabled camera models, you can import your photos while dropping the dongles, cables, and card readers — and save time while doing so!
Cascable Transfer has you covered no matter your needs. Whether it's one-click import into your Photos library or a custom folder structure for your Lightroom or Capture One Pro catalog — or anything in between — you can let Cascable Transfer do the work for you while you concentrate on your photographs.
For more information on Cascable Transfer, see its page on our website.
What's new in Cascable Transfer 3.0?
Cascable Transfer 3.0 is an update long in the making, and it has some great new features and app integrations, with much more to come!
Integration with Capture One Pro 12.1 or higher
We've been huge fans of Capture One for a long time, and we're thrilled to be able to support it directly!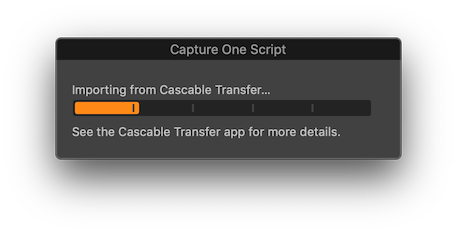 Integration with Retrobatch
Retrobatch is an incredible batch image processing app from fellow independent Mac developer Flying Meat.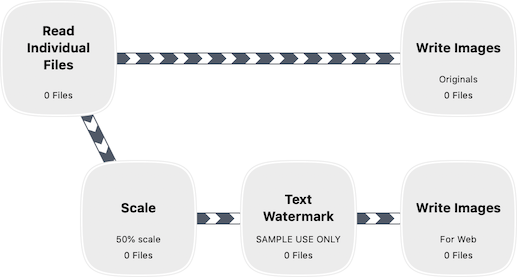 A simple Retrobatch workflow that saves a half-size, watermarked
image alongside the original.
When combined with Cascable Transfer, the productivity improvements that can be gained are incredible. Need half-size, watermarked versions of all of your photos? Metadata scrubbing for social media? Black & White copies? Together, Cascable Transfer and Retrobatch can get that done and more as your photos are being imported.
Full support for macOS 10.14 Mojave and beyond, including dark mode and increased security via sandboxing
For version 3.0, we've completely revamped Cascable Transfer to fully embrace the increased security present in macOS 10.14 Mojave and beyond. Additionally, your photos look beautiful in dark mode!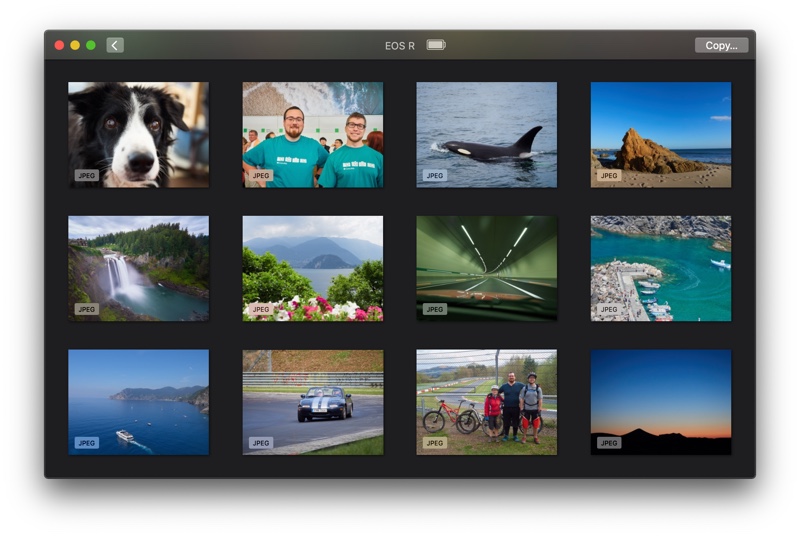 Lots more!
Cascable Transfer 3.0 also adds a number of smaller new features and fixes throughout the whole app. For more details, see the Cascable Transfer version history page.
Questions & Answers
The move to the Mac App Store is a little more complex than a normal update, and we're doing our best to make it as smooth as possible for everyone.
Why are you moving to the Mac App Store?
Earlier this year, the platform that we used to distribute and sell Cascable Transfer announced that it would cease to operate in December 2019. This meant that we needed to find it a new home!
This happened in the middle of our work to bring Cascable Transfer up to date with the tighter security requirements of macOS 10.14 Mojave. Distributing through the Mac App Store has tighter requirements still, but we decided to continue our work and meet those extra requirements.
The result is better for everyone — Cascable Transfer is more reliable than ever, and completely fits in with the more modern, more secure macOS. Being on the Mac App Store also means that purchases and updates of Cascable Transfer are handled by Apple using the payment system you already know and trust.
Is this a paid upgrade?
Yes. We haven't charged for an upgrade since Cascable Transfer was released in 2016, and this new version is a significant upgrade.
I bought an older version of Cascable Transfer. Can I get a discounted upgrade?
The drawback of moving to the Mac App Store is that it doesn't allow us to give discounts to users based on external criteria, which means we can't give individual discounted upgrades.
Instead, to allow our existing users to have a discounted upgrade, we will be selling Cascable Transfer at a discount to everybody for two months after its release. We will be emailing everybody who purchased Cascable Transfer to let them know about this move and this discount period.
During the discount period, you will be able to purchase Cascable Transfer 3 for the reduced price of $12.99 on the Mac App Store. After the discount period ends on October 31st, 2019, the cost will revert to the normal price of $24.99.

If you purchased Cascable Transfer 2.x from our website on or after March 1st, 2019, please get in touch using the button at the bottom right of this page with a copy of your purchase receipt and we'll be able to give you a free upgrade to the new version.
I'm happy with my old version of Cascable Transfer 2.x and don't want to upgrade. What happens to me?
Our previous licensing platform has committed to maintaining support for existing customers, so you should still be able to activate and work with Cascable Transfer as normal. However, we cannot guarantee compatibility with newer operating systems or cameras with old versions of Cascable Transfer — if you experience problems with versions of macOS or cameras not released when Cascable Transfer 2.x was last updated, you will need to upgrade to get support for those newer things.
Keep In Touch!
If you'd like to keep in touch with us, you can do so in a number of ways:
We'll be posting handy tips and tricks on this blog, and you can subscribe to our RSS feed here.
You can follow us on Twitter, Instagram and Facebook for byte-sized looks into life at Cascable.
You can subscribe to our email newsletter. It's very low-volume, and we'll use it to send you the occasional email about Cascable updates and new features.