How To Look Awesome With Cascable Pro Webcam
Simply using Cascable Pro Webcam will give your image quality a huge boost compared to your computer's built-in webcam. But, with a little bit of work and a couple of accessories, you can look awesome.
Here's some things you'll need to replicate what we're doing here:
A camera. We're using a Canon EOS M50, since it's a reasonably inexpensive camera that's great for use as a webcam — it's nice and compact and has great image quality and great autofocus.

Some way of raising the camera to eye level on a desk. The best way of doing this is with a small tripod — we're using a travel tripod here — but a pile of boxes will work as long as it's sturdy.

A diffused light source. The important part here is "diffused" — direct light sources give strong shadows, which are unflattering. When you diffuse light, you scatter it and get rid of those harsh shadows. Think of direct sunlight compared to a cloudy day — the clouds are diffusing the light and softening up the shadows. You have a few options here:

You can purchase an inexpensive LED light panel that you can stand on your desk. This will be the most flexible, with adjustable brightness and colour, but it's something else to buy.

If you can move around, you can sit facing a window with a translucent blind (or a bedsheet!) hung in it.

If you can't move around, you can shine a directional desk lamp through a translucent white sheet or piece of paper to diffuse the light.
Very Important: If you build your own light diffuser, it's very important that you don't directly cover your light source with the diffuser material! Lights get very hot, and covering them with something like a sheet or a piece of paper is likely to cause a fire.
Graduating From A Laptop Webcam
First, let's sit at our desk and look at our MacBook Pro's built-in webcam. It looks awful! A lot of the problems are due to the framing:

The camera is on the desk, looking up under the subject's chin up to the ceiling.
There are multiple lamps and a window in the frame, which confuses the exposure calculation and makes the subject dark.

Next, let's plug in our EOS M50 and place it at approximately eye level on the desk and switch to using Cascable Pro Webcam instead of the computer's built-in webcam. That's already a lot better!

We still have a window in the background of the frame, which means the subject's face is a bit darker than we'd like. Adding a light source in front and to the left of the subject helps brighten up the face a bit.

However, the shadows are really strong using a direct light source, so let's add a diffuser. In this case it's a piece of plastic that came with the light, but we could shine the light through a piece of white fabric or paper. The shadows are a little softer now, and the source looks less "contrasty".
Example Setup
This is a photograph of the setup we ended up with at the end of the steps above, using Cascable Pro Webcam and the EOS M50.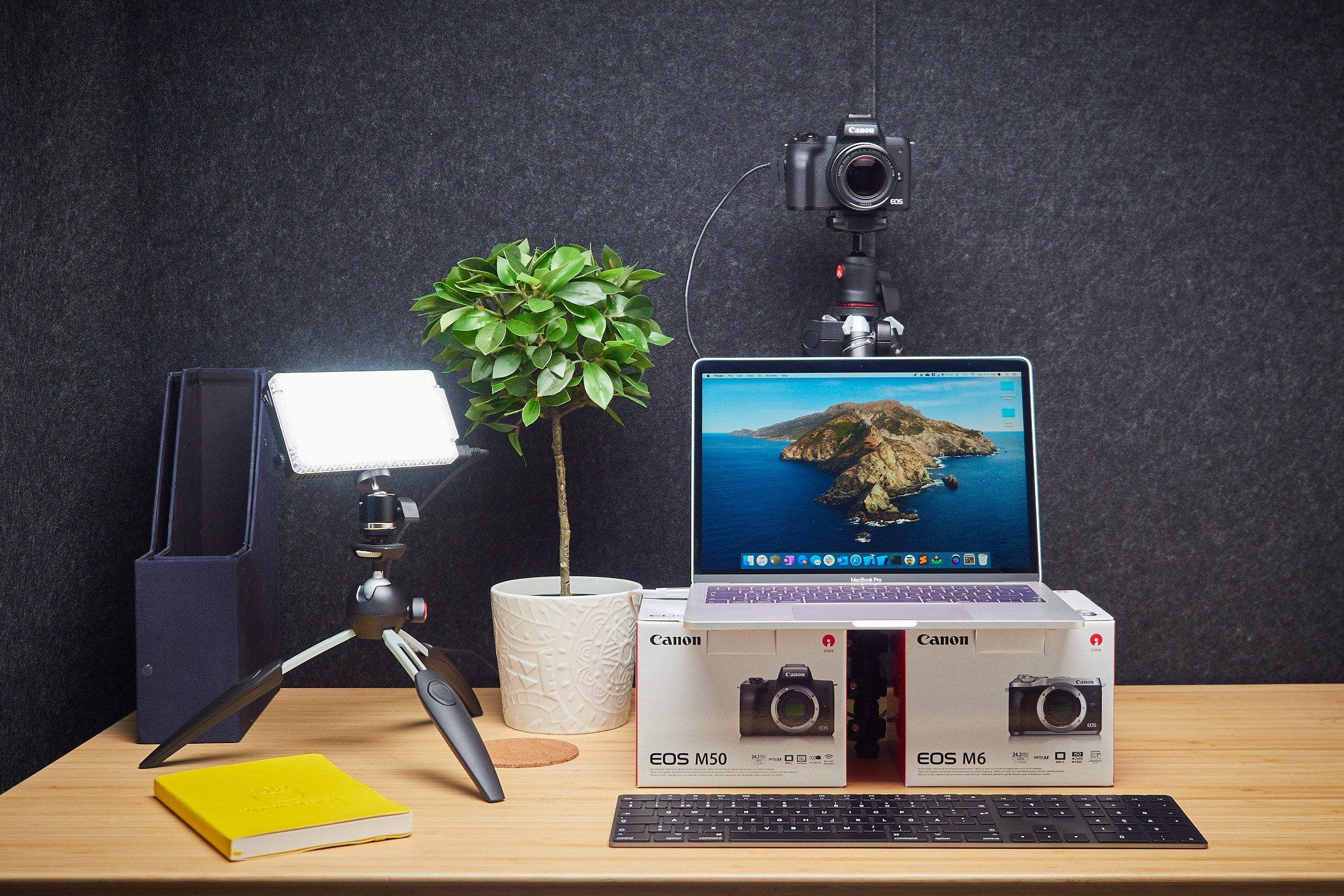 A few notes about this setup:
Having the laptop raised from the desk is generally better ergonomically, and when using it with a camera that's raised up to your eye level, the closer your screen is to your camera lens the better. You'll end up looking at your screen nearly all of the time when videoconferencing, and if your screen is all the way down on your desk the others on your call will end up looking at the top of your head!

A laptop stand is best, but a pile of books or boxes works fine as long as the pile is sturdy. Here at Cascable, we're uniquely stocked with as many camera boxes as we could ever need!

The walls in our office are painted white, and there's a huge whiteboard just to the left. This helps the light bounce around and be more even. If you're having trouble with uneven light, placing a large, flat, bright object just out of frame on the darker side will help bounce light back onto your face for a more even light. This could be a big box, or a bedsheet.

We're using an LED light panel with the strongest diffuser that it came with attached.
The full equipment list for this setup:
A 13" MacBook Pro and a Bluetooth keyboard.

An EOS M50 with the EF-S 18-55 lens (a common "kit" lens), attached to the MacBook Pro via USB.

The camera is mounted on a Manfrotto BeFree travel tripod that's sitting on the desk at its lowest height.

The light panel is an Aputure Amaran AL-F7 LED panel, powered with a USB power adapter.

The light is mounted on a Manfrotto PIXI EVO 2 mini tripod.
Some of this equipment is a little overkill for this setup (particularly the tripod that the camera is on), but the beauty is that apart from the camera and the computer, this sort of setup can be constructed with things you have lying around. For instance:
The camera tripod can be replaced with a (sturdy!) stack of books of boxes.

The light panel can be replaced with any diffused light source. You can convert a harsh light source into a diffused one by shining it through something that scatters light. Some examples:

Facing a window that has a translucent curtain or blind installed, or a white bedsheet draped over it.

Shining a bright lamp at yourself, through a white sheet or pillow cover.
Very Important: If you build your own light diffuser, it's very important that you don't directly cover your light source with the diffuser material! Lights get very hot, and covering them with a pillow case is likely to cause a fire.
Getting Creative
| | |
| --- | --- |
| | Once you're looking good, you can start to get creative! Because you're working with a "real" camera, you can use the techniques in any photography lighting tutorial you'll find online with your camera and Cascable Pro Webcam — such as this spotlight effect! |
Conclusion
With Cascable Pro Webcam, a reasonably cheap camera and a little work making the light work to your favour, you can acieve incredible results!
| | |
| --- | --- |
| Before: MacBook Pro's built-in webcam. | After: Cascable Pro Webcam with an EOS M50. |