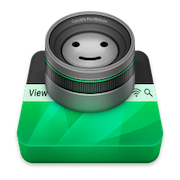 Cascable Pro Webcam
Turn your camera into a supercharged, high quality
webcam with no extra hardware required!
Requires macOS 10.15 or higher. Native on Apple silicon.
Cascable Pro Webcam can turn your supported DSLR or mirrorless camera into a webcam using just USB or WiFi. You'll be the best-looking person in your video conference by far!
---
Elevate Your Stream
Cascable Pro Webcam is designed to help you create a professional and great-looking stream, whether you're taking part in video calls or streaming to thousands of fans. On top of the superior image quality you get by using a camera much better than your computer's built-in webcam, Cascable Pro Webcam can configure your camera for the best focus settings for webcam use, and provides options for optimising performance.
See our How To Look Awesome tutorial for tips and tricks on how to look your best on camera!
| | |
| --- | --- |
| Before: MacBook Pro's built-in webcam. | After: Cascable Pro Webcam with an EOS M50. |
---
Stay In Control
Cascable Pro Webcam allows you to adjust camera settings* and manage camera focus while connected to your camera, even if you're in the middle of a video call or stream.
And, should the worst happen and your camera runs out of battery or otherwise becomes disconnected, you can customise the "test card" that's shown when no camera is available. Want an on-brand image or a bit of fun to make your colleagues laugh? It's up to you!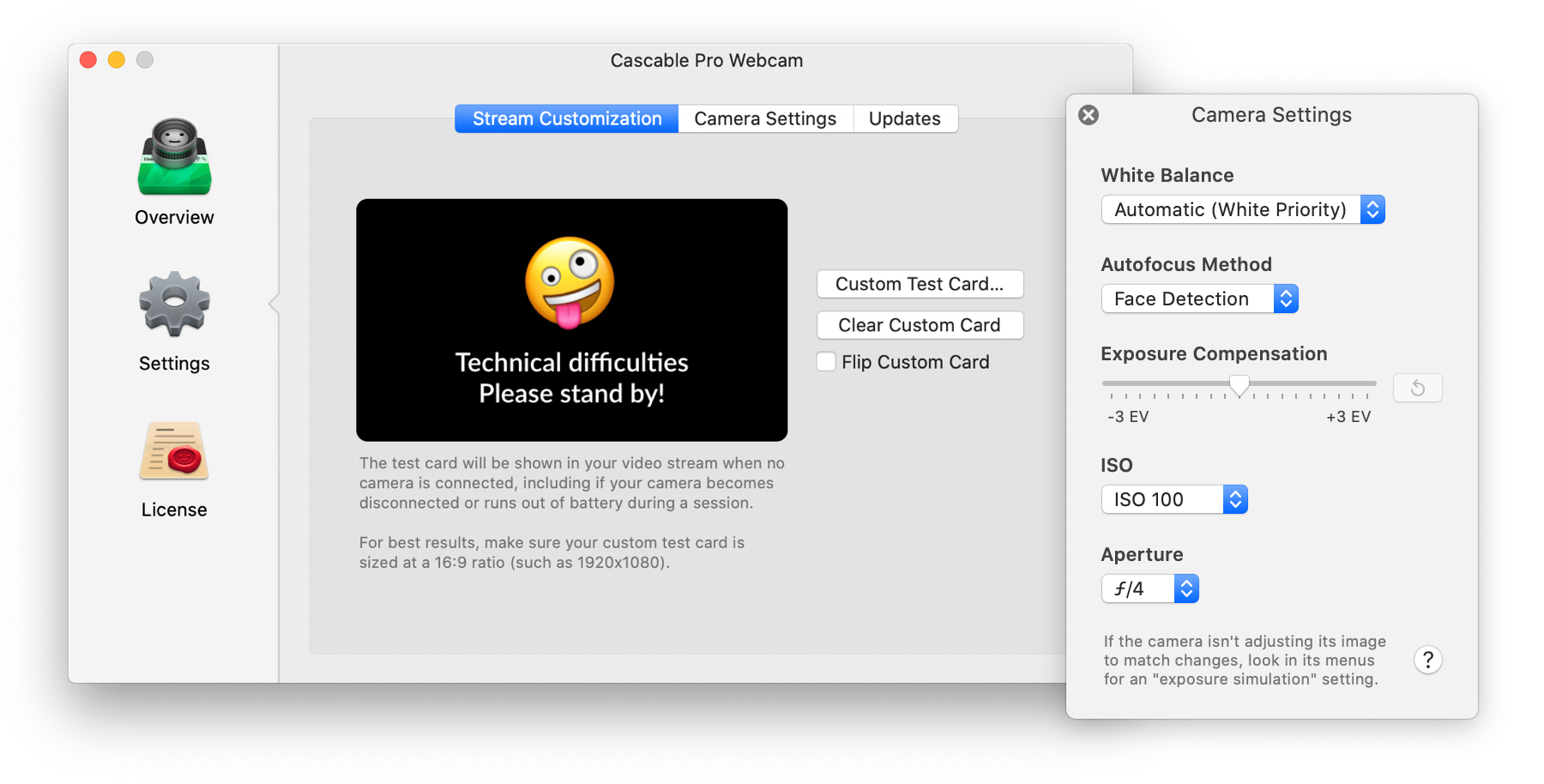 * Exact settings that can be changed will vary by camera model.
---
Compatibility
Cascable Pro Webcam is compatible with hundreds of cameras.
Cameras via WiFi
Most Canon, Fujifilm, Nikon, Olympus, Panasonic and Sony cameras with WiFi.
See our WiFi compatibility table for more information.
Cameras via USB
Most Canon EOS, Nikon, and Sony Alpha cameras, although cameras not in our WiFi compatibility table may not have been tested. See our Working with Wired Cameras guide for more information.
Compatible Apps
Cascable Pro Webcam should work with any app that supports the macOS standard webcam system. The best thing to do is to install Cascable Pro Webcam and try it out! The following apps have been tested to work:


FaceTime


Safari


QuickTime Player


Google Chrome


Microsoft Edge


Microsoft Teams


Cisco Webex


Slack


Skype


Zoom


OBS Studio


Twitch Studio


Discord
Note: Compatibility with some apps (particularly Apple ones) requires macOS Monterey 12.3 or higher.
---
Installing Cascable Pro Webcam
To install Cascable Pro Webcam, download the app using the button below. Unzip the app if your web browser doesn't do it for you, then move it to your Applications folder and open it. Cascable Pro Webcam will then walk you through getting set up.
Cascable Pro Webcam starts off with a built-in trial that never expires, but limits each video stream to five minutes — after which an overlay will be applied to your stream. Some features are also not available in the trial. Purchasing Cascable Pro Webcam will instantly remove all trial limitations, including removing the overlay and unlocking all features — and you'll also be supporting an independent developer!
Requires macOS 10.15 or higher. Native on Macs with Intel or Apple silicon.