We're proud to announce Cascable 5.0, which brings a radical change for photography tools on iOS — support for directly working with photos stored on cameras and other storage devices connected via USB, including flash memory, SSDs, hard drives, and more!
That's not all! Cascable 5.0 contains several other new features and improvements to existing ones. Let's dive in!
Import Photos From USB-Connected Cameras
For years, Cascable has focused on the freedom and flexibility of working with cameras over WiFi. When importing images, we even provide access to RAW images when most other apps limit you to JPEG files. However, some models of camera refuse to provide RAW images over WiFi, and importing large projects from those that do can take some time.
With Cascable 5.0, both of these problems can be solved by plugging your camera into your iPhone or iPad via USB. As long as you're running iOS/iPadOS 13.2 or higher and your camera supports industry-standard PTP/MTP file transfer standards, Cascable will connect to your camera and allow you to view, filter, preview and copy RAW and JPEG images.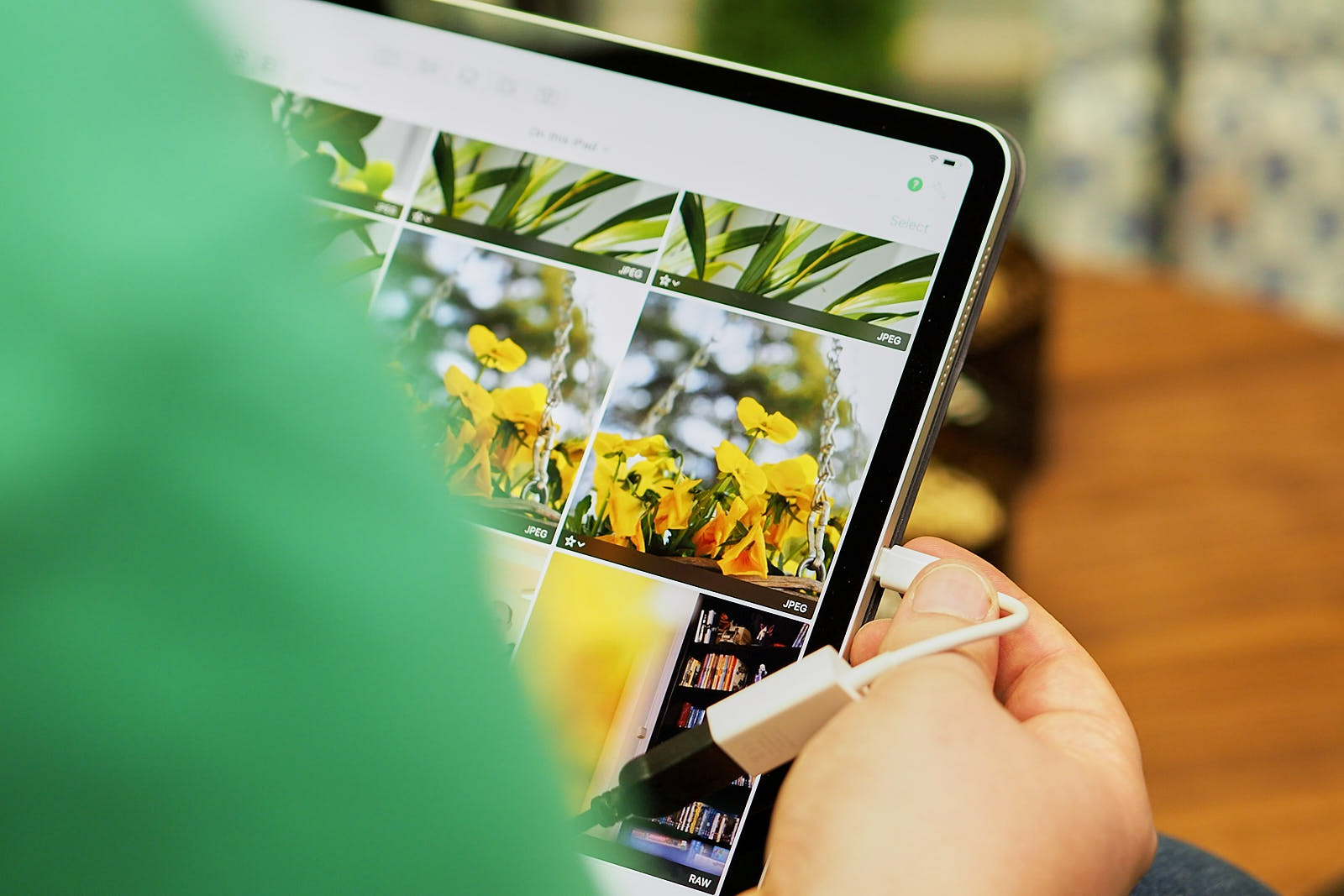 This expands Cascable's reach quite considerably:
It gives access to RAW images when not available via WiFi (this one's for you, Fujifilm users!)
It provides compatibility with cameras that don't have WiFi
Particularly on iOS devices and cameras that support USB 3 speeds, it gives astonishingly fast photo import!
Working with cameras via USB isn't itself a paid feature of Cascable, but the usual limitations apply — working with RAW images, automatic import, and various other features require the paid app. You can find out which features require the paid version of Cascable in our Pro Features support article.
Getting your camera connected to your iOS device may need adapters and a little bit of setup. You can find a guide to that in our Working with Wired Cameras guide.
Important: Due to limitations in iOS/iPadOS, Cascable is only able to provide photo management features via USB. Remote control and shot automation features still require a WiFi connection to the camera.
An Important Note On USB Compatibility
Adding support for connecting cameras via USB opens Cascable up to thousands of camera models. It's impossible for us to test all of them, so we don't maintain a list of supported USB cameras. Cascable should work with any camera that supports industry standards, but it won't work with every camera out there.
It's also important to note that our WiFi compatibility table only charts cameras that are compatible with Cascable over WiFi. A camera missing from that list doesn't mean it won't work via USB, and importantly a camera on that list doesn't mean it will work via USB.
Work With USB Storage
Cascable 4.0 added support for the SanDisk iXpand external USB storage device, and we're very happy to be able to expand our support to any standard USB storage device in Cascable 5.0 as long as you're running iOS/iPad OS 13 or higher.
Simply connect your USB storage device to your iPhone or iPad, then tap Add Storage Location… in Cascable and choose your storage device. Cascable will then automatically show that device whenever it's connected.
USB storage devices are first-class citizens in Cascable, and work with the whole host of photo management features. As with cameras, working with USB storage may need adapters and a little bit of setup — you can find out more in our Working with Out-Of-App Storage guide.
It's not just USB storage drives! You can add any writeable storage location available to your iOS device to Cascable — including folders in the device's internal storage.
Much More Powerful Automatic Importing
Cascable's automatic importing feature — Storage Links — gets much more powerful in Cascable 5.0 with the addition of two features: Filtering and Inter-Session Import.
Filtering allows you to choose whether a storage link applies only to RAW or JPEG images, and inter-session import means that storage links now apply between connections of a camera rather than just while a camera is connected.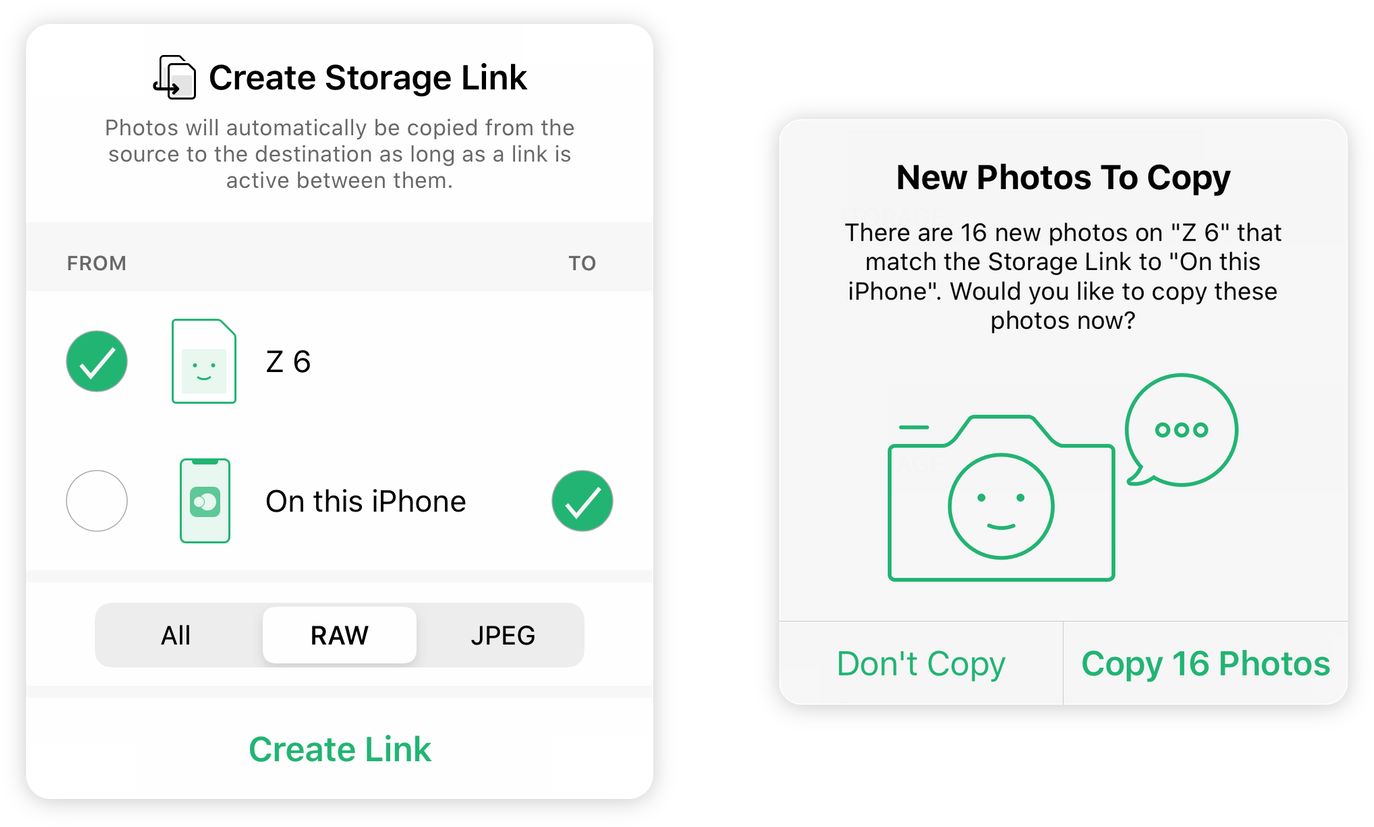 Photo Search and Filter
We've also added some filtering tools to Cascable's photo management screens. You can filter photos by date, file type, and with a text search. Text search supports the following metadata:
File name
IPTC artist
IPTC copyright
Camera manufacturer and model name
Lens name, if provided
Other Minor Features
We've also added a manual focus stepper to remote control for cameras that support it, added a "Perform Autofocus" block to Recipes, and added support for a number of new cameras.
---
Do I Have To Pay For These New Features?
Our upgrade policy remains the same as with Cascable 4.0: If you're currently subscribed to Cascable Pro or have purchased a full unlock to Cascable Pro in the past, everything in Cascable 5.0 is available to you.
Keep In Touch!
If you'd like to keep in touch with us, you can do so in a number of ways:
We'll be posting handy tips and tricks on this blog, and you can subscribe to our RSS feed here.
You can follow us on Twitter, Instagram and Facebook for byte-sized looks into life at Cascable.
You can subscribe to our email newsletter. It's very low-volume, and we'll use it to send you the occasional email about Cascable updates and new features.